New PMP Question & Answers with explanation
A project sponsor is risk averse and is therefore concerned about negative impacts on the project. To help with this concern, the project team identifies four project risks and then evaluates both the probability of occurrence and the impact of the risk if it occurs. The team uses a 1-5 scale, 1 being the lowest and 5 being the highest.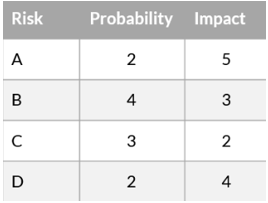 Based on the table, in what order should the project manager rank these risks for risk management purposes?
A project is being planned in a remote area with limited access to vehicles and equipment. The project manager proposes that the company use an outside vendor to deliver all heavy equipment. The project manager will take full responsibility for this activity. However, this strategy will result in a significant expense. What type of risk response is the project manager demonstrating?
Your sponsor has committed to building a high-speed rail from one major inland city, Azules, to the coast. You have two possible routes, either Brazos or Corazon. Given each route's costs, odds, and rewards of high demand and low demand in this decision tree, how would you quantify the expected monetary value of the route to Brazos?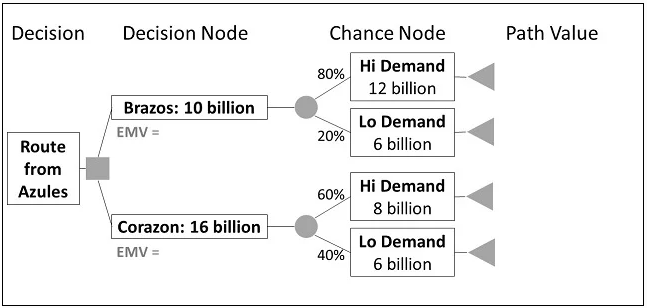 Wendy is a project manager for an IT data center installation in a country that recently established independence. The country is in a strategic location for fiber optic communications, but the political climate is highly unstable. In order to keep the data center in the country but avoid unnecessary influence from the political dynamics, Wendy has negotiated with the U.S. Department of State to establish the data center in the basement of the U.S. Consulate in the capital city. This is an example of:
Tom is a project manager for a large software project. During project risk planning, Tom and his team are trying to decide whether to invest $10 million to develop new software or to instead invest $5 million to upgrade the existing software. The team is uncertain how strong demand will be for their product and, therefore, must account for this uncertainty in their analysis. What would be the best tool for the project manager to use in this case?